The year 2022 has been a year of great learning and a few intense life changes. This year has been a year of many dream-come-true moments and even a few setbacks. I would like to thank you all for the love and support you guys have shown us all year round. All the achievements and successes couldn't be possible without you guys. This one is just a walk down memory lane.
Dreams Come True Moments:
Moving Into My Dream Home
At the start of this year, I moved into my dream house. Felt incredible and was overwhelmed at the beginning. But it got a little depressing, as I was living on my own for the first time. But never the less I coped with it and had my team working around me. I got a perfect space close to the beach, and people living in Mumbai know how difficult it is to find. After a lot of planning and design discussion, I wanted to utilize most of it for shoots and finally, it was ready. Entering it for the first time felt surreal.
Ind VS Pak Match
If you are an Indian kid, the India VS Pakistan cricket match is an event. And to witness this match live in MCG stadium was a dream come true moment. The feeling of watching the match live can't be expressed in words. Watching those matches on TV and then getting a chance of witnessing it live in a stadium with so many cricket fans around was insane.
FIFA
Since the age of nine, I have been watching football. Football and cricket are the two sports that have taught me a lot of life lessons and team-building lessons. And this year, I got to witness a great win of Messi. Even though I have been a Ronaldo fan all my life, I have great respect for Messi, and witnessing the most intense match live felt like a blessing.
Achievements:
Forbes 30 Under 30
At 22, I ferociously started chasing the goal of being featured on this list. Ideally as an entrepreneur. At 24, we started Monk-Entertainment. I had only 3 goals at the start of my career : – A million-subscriber YouTube channel – A feature on Forbes 30 Under 30 – To build a unicorn. And now, two of those are completed. I cried like a baby that day. I manifested this. But every year that it didn't happen, made me want to go even harder in the paint! More ferocity. More work. More sacrifices. It finally happened, and I know that if I put in all my work, God had my back.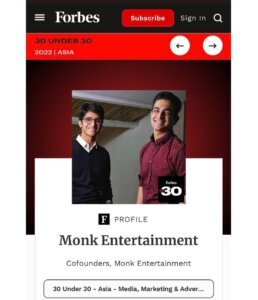 Guest Speaker At IIM
I was invited by IIM Bangalore for a guest lecture on social media & the future of influencer marketing. Was a nice, warm & fuzzy moment for me. My mom isn't proud of too many things that I do. But since I\'m from a family that values education deeply. Being called to an IIM was the biggest moment for the 2 of us together!
https://www.instagram.com/p/Ck0iulIAKwm
22 Lessons Learned in 2022:
 Society will always make you believe that something is lacking.
If you're young and ambitious, know that you can never control the results. You can only control your honesty & integrity in your profession.
Just do your work to the best of your abilities. And don't be harsh on yourself if you don't get to where you wish to be. Try harder the next time, but also enjoy each day of your career.
Don't hurt people on your chase to date. Make your long-term plans clear.
Expectations kill relationships.
No relationship is simple. You\'ve to find the one worth suffering for.
 Don't fear leaving something good for something that could be great.
 Don't bring friends or family into your relationship\'s problems. It\'s supposed to be between the two of you.
 Your friends and family know what kind of person you need. They often spot red flags that you may miss. Hang out.
 People reveal their real character only in the long term. Hormones & culture create honeymoon phases. Trauma and time create revelation.
Believe in true, passionate, loyal love – because it\'s out there.
Any lack you feel is in truth a lack of the chase for understanding what God is. His truth is beyond words, beyond understanding, and beyond the most positive feeling you\'ve ever felt. Chase. Question. Learn.
 Money is a toy in the hands of God. Put God first, and money will follow.
Do not rely on God blindly. He does not respond only when prayer is made in his name. He responds when he sees prayer combined with action.
Results are entirely in his hand. Because neither success nor failure is your doing alone. Only your honesty & dedication are in your hands. God always rewards integrity. Especially at work.
 If you feel that you have not got your due, he is saving \"your due\" for the right time. Hard work is always registered by the universe.
Astrology may be real. But the outcomes of astrological charts and the results of your destiny can be drastically altered. Hard work, faith &Leave it entirely to him if you can do nothing about it
Leave it entirely to him if you can do nothing about it. The more you believe, the quicker he responds.
Spiritual suffering exists in our world. There are evolved humans, there are seekers. Some people find \'peace\' in never thinking about God or the universe.
Don't look down on anyone. Timing is a huge factor in every soul\'s journey. Avoid growing a spiritual ego at all costs. Just focus on your growth.
Leave the world happier than you found it. Strive to make that a part of your life\'s purpose. When you die, you will not take money, fame, or even love with you.
You will simply take your karma.
Thank You!
Read Next:
FIFA and Football Basic Lessons